♥
1
Chapter 7: The Sum of Parts
"Perfection is achieved, not when there is nothing more to add, but when there is nothing left to take away." These are the words of famous French writer & aviator Antoine de Saint-Exupery. We very much agree with this.
It is our theory that the more you add parts or features to a guitar, the more you alter its most natural tonal characteristics and vibrations. This also works for its electronics, the less you use pots, the more direct your tone will be.
There are very little standard parts that we use on our Magneto Guitars, even our bridges are specifically crafted to our needs respecting our love for slightly narrower string pitch. Our pickguards play both a protective AND decorative role in our guitars, yes we like to make holes in them!
There is a fascination about parts and features, are they really that important? Yes, in the sense that every single part on a guitar has an influence but we believe that the most important thing is the quality of the construction. At the end of the day, the instrument has to inspire the musician to play new music.
That being said, we like to go for the best when it comes to parts, as an example we use bridges and tuners that are custom made by Gotoh for the quality of their engineering and reliability.  Oiled cow bone is used for the nuts. All these parts play an important role in transmission of vibrations to the woods.
Last but not least, yes the instrument has to be better than the sum of its parts…
Stay tuned!
♥
5
Chapter 6: Dressing up!
Well to be honest, there is always something barbarian in showing the making of a guitar, isn't it? The instrument has such an emotional meaning to most guitar players whereas showing bare bodies and parts almost takes the magic away. Well… time to put a dress over this naked body!
While we like to use nitrocellulose or urethane finishes on most our guitars, in this particular case we wanted to go for a different finish with a more distressed feeling without trying to make it look "used". We chose a special oil-wax finish with a black tint. This finish takes up quite some time and energy to apply. Beforehand, we gotta make sure that the wood surfaces are perfectly clean, this all implies a lot of sanding!
While it is common belief that oil finishes are the best thing for a guitar in order to sound and breath, it is not always the case depending on the approach. If you simply apply oil to a piece of wood, the oil will sink into the wood and ask for more oil which is not exactly what you want for great tone, furthermore some oils will darken the woods within weeks time.
As crazy as it may sound, some of the best oil finishing techniques come out of the gun industry (gun stocks need both protection and great looks!). Back to our guitar, as we use mahogany which is very porous, we will start and apply a sealer-filler. Then we can start with the oils, linseed based oil that is. We will apply about 5 thin coats of finishes over several days as each coat needs time to dry. When the last coat is dry we will wax it.
Voilà! Big advantage of the oil finishing process is that it probably is the most evironment friendly and safest method out there because:
1)      the basic materials are all based on natural oils.
2)      you will not need any spray booth, mask nor ventlations, just a cloth and a LOTTA elbow grease!
Next step will be to start and mount the bridge and parts.
Stay tuned!
♥
3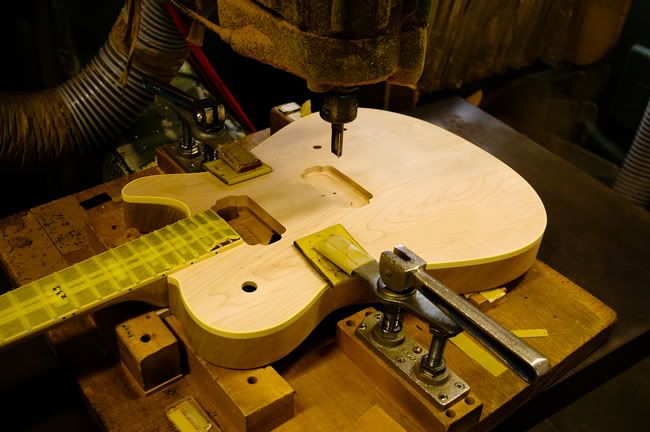 Chapter 5: The Coupling
That might sound like a funny title but we really mean it! We've reached the point where the neck is being joined to the body and it is a fact that the character of each part will influence the other in the complexe transmission of vibrations. Just like humans; when a team of people have an overall positive influence on each other, the group should be stronger than the separate individuals.
So what is the plan? Well basically the idea of a set-neck guitar is to join the neck as tightly as possible to the body in order to make it one single piece. This has proven to be an excellent method as it has been done for over 60 years on those type of instruments, the areas that once were glued together back in the time are still rock solid. The culprit is to have both parts fitting as tightly as possible so they become one.
What is the expected tone? Any suprises to expect? Yes, the concept seems to be standard yet the body is a bit thinner and a tad smaller when compared to other instruments that type, keeping the neck and the headstock on a fair good size. The tone we expect is warm, tight & focussed with nice overtones, snappy midrange and great sustain. As on all our instruments, we go for a nice clean tone with classic output pickups.
What about weight? Well so far we designed the guitar so that we will not have to do any kind of chambering in order to tweak the weight, this also has an influence on tone and we wanted to avoid that. So we are looking to have an intrument around or below the 4 kgs (8lb & 13 oz). Yet it still needs to be balanced when strapped around the body in order to keep the neck in the air, this was also taken care of during design, hence a special design of the body where we have put a bit more mass on the bottom of the guitar.
Now that body and neck are assembled, we will finish the routings of the pickups in order to make sure they are well centered and positioned.
Well so far, considering the carving of the top, the binding, the set-in neck, headstock angle etc… there is no doubt that this construction requires more work when compared to a set-neck guitar.
Next step will be to apply a finish to this new guitar.
Stay tuned!
♥
1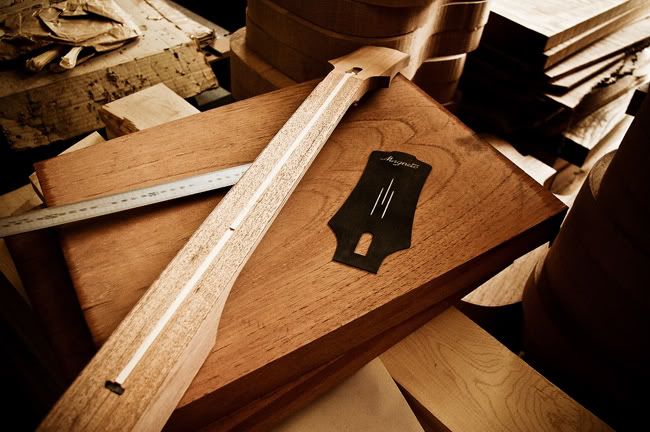 Chapter 2: The Neck and its secrets
While you probaby expected that we start exploring the body, we intentionally started to talk about the neck in order to explain its important points.
The neck has a massive impact both on the sound and the overall feeling you have when playing the guitar. In other terms, the neck woods will produce intense vibrations. You cam make the experience by simply playing the open strings on your guitar: simply by feeling with your fingers you will feel more vibrations on the neck area than on the body. Something we rarely do is touching the headstock during the string vibrations, there you will feel even more resonance. It is an obvious fact that the impact of the neck & headstock on the overall tone of an electric guitar is quite important. So,we will basically start with one massive piece of carefully selected and well seasoned mahogany
Another aspect of this new guitar will be the headstock: first, it will have 3 tuners per side and will have a 17° angle to the fingerboard, this to ensure great string pressure on the nut resulting in greater vibration. Nothing new there as this had already been done on vintage guitars and proved to work the best for the tones we wanted to achieve.
The headstock will receive a thin ebony cap in which the Magneto logo and the 3 Velvet stripes will be inlayed using Mother of Pearl material.
Right on the other end, the bare neck will have a long tenon that will be shaped to fit very tightly into the body where it will be solidly glued. It is called a set-in neck and we will use a very traditional Mortise and Tenon joint, goal is to connect body and neck in such a fashion so it becomes one single and tight unit.
Mass? Yes, mass is important but you do not want a neck to be too fat, just fair sized so it feels good to play. And the mass of the neck has to be in a certain balance to the body mass in order to reach the tones we are after.
Next step is glueing the fingerboard onto the neck.
Stay tuned!
Chapter 1: Design or the search of the perfect curves
"Design" has become a very common word these days. In the field of electric guitars "Design" not only means the actual shape and form of the guitar but it also includes the technical aspects such as mass of woods, scale length, hardware types, pickup types etc… In short, the design of an electric guitar is very much the combination of all these aspects and the anticipation of the final result in terms of tone and playability.
Since the launch of the Magneto Guitar brand, we always knew we would want to have a 3rd electric guitar type that would not only be different to complement the existing line but it would also respect the Magneto Philosophy both in design and tone. We are clearly talking about a set-neck, 24 ¾ scale, 2 pickup guitar. This was our starting point.
Among the many reasons we were looking forward to this new instrument, was the fact that we have some experience in the field and we knew we could stay true to our original concept: redefining a different body & neck balance.Our guitars traditionally have a body design with less mass and fairly sized necks in order to change the basic vibrations of the instrument, clearly making it different to all other instruments out there.
Last but not least we wanted to create an instrument that would require a bit more work with a set-neck, a carved top, binding, angled headstock etc…
Now that we have defined the rules, time to work on the shape, on the body curves, the body mass, the neck mass, the headstock shape & mass. All these parameters interact and influence each other in a complexe way.
The design of guitar can take anything between 1 and 6 months,
How exciting is that?
Stay tuned!
♥
3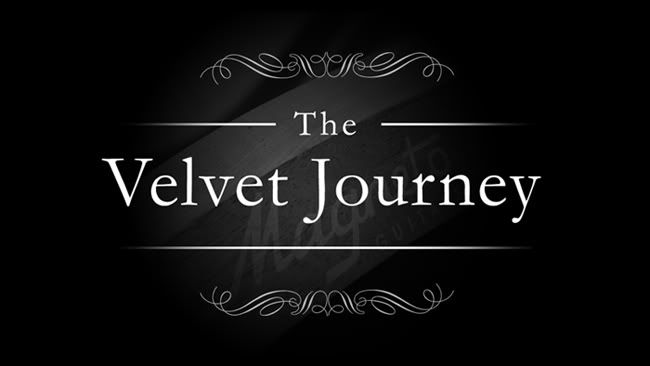 Introduction
"What are you guys about?" This simple question showed up on our Twitter account quite recently and it proved to be a good question for many reasons; while we spend our days conceiving, engineering, building, selling and shipping our guitars, it is always good to get back to the basic question: what are we about? Do we do the right thing? Do we stay true to our original ideas and vision? Do we keep our promises? The kind of questions which could put ourselves in fear. Well, we think that we keep going the same direction since the beginning. Within the past years, we managed to stay true to our original ideas, our guitar models, our building methods and, most importantly: we're the same group of people.
But is that answer good enough? Not really, yes we build original instruments using quality materials with great attention to detail but actually, we want to go one step further. We see our guitars as an extension of the musician who will play them. At the end of the day, music remains the most important of all things, the instrument shall inspire the musician to practice, to create or to explore new directions.
The purpose of the "Velvet Journey" is to show you a bit of our methods of madness, the way we proceed to create,design an build a new electric guitar. While our first 2 models, The Sonnet and the T-Wave have become available in many countries and are being played by musicians worldwide, we had a third guitar model in mind since the very beginning.
Let us give you some insights on how we move forward and welcome aboard the Velvet Journey.
More soon!


I love LA, I love California, actually I love the US for many reasons but the main reason being that americans are just some of nicest folks on the planet. I guess I can say that as a frequent visitor of this country. I keep on pretenting that the inventor of the electric guitar is european but the history and development of our beloved instrument clearly happened in the USA. Americans are simply passionate about guitars.
It is january and it is NAMM time again. NAMM is the favourite music show of many people in the music industry, main reason is that it happens in sunny California and everybody is sorta cool and easy.
This is my 19th time at NAMM and it is a real pleasure to see my long time buddys here every year. This year I just came here with one of our Magneto guitars on my back in order to show it to interested music dealer from all over the world. I met great people and new friends. It was true pleasure to spend some time with Ilia, our new dealer in Moscow or Chris, our new shop in Thailand.
Our friends from Custom Guitar Boutique have arranged some interivews and Jim simply came to my room with his camera and a couple of questions. God I hate to hear and see myslef talk, thank god I never became a politician!
♥
1
It seems like musical instruments shows are growing again all over the UK, probably good news since the London guitarnation2010 has been quite as success in terms of audience. I was lucky to be invited to exhibit some of our Magneto Guitars at the booth of High End Guitars, our exclusive UK dealer. The most remarkable thing always is that the british music industry is a small village where everybody knows everybody and it all works in a "friendly competition" atmosphere. Of course it was great for me to see old friends like Jason Castle, Steve Wright or Trevor Wilkinson with whom I have collaborated on various projects in the past.
One can see that the guitar culture is very alive in this country, and there were guitar aficionados any age. Guitarnation managed to gather a few guitar super-stars like Stevie Vai, Albert Lee or Martin Taylor amongst others. This also was the first consumer show we did with Magneto Guitars and it was a very good experience for us as we gathered a lot of interest and input from players. 
I'd like to thank everyone who came by to check the guitars and talk to me, many thanks to my friend Jason who organised the superbe booth and kept us all entertained.  
On another note, it is important to notice that Londoners are utterly nice people and always helpful which makes the travel easy.
Chris
♥
1
♥
2
♥
2