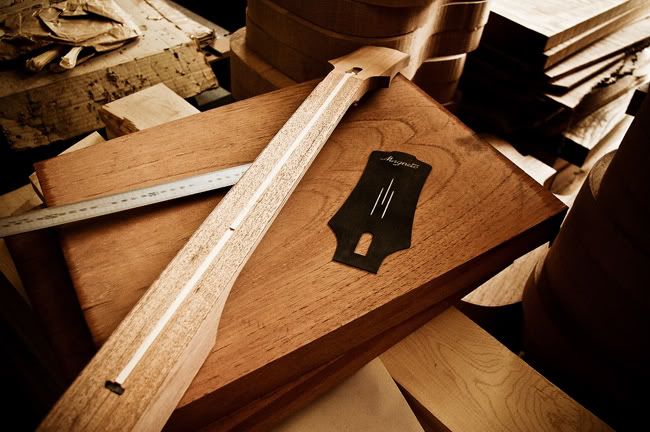 Chapter 2: The Neck and its secrets
While you probaby expected that we start exploring the body, we intentionally started to talk about the neck in order to explain its important points.
The neck has a massive impact both on the sound and the overall feeling you have when playing the guitar. In other terms, the neck woods will produce intense vibrations. You cam make the experience by simply playing the open strings on your guitar: simply by feeling with your fingers you will feel more vibrations on the neck area than on the body. Something we rarely do is touching the headstock during the string vibrations, there you will feel even more resonance. It is an obvious fact that the impact of the neck & headstock on the overall tone of an electric guitar is quite important. So,we will basically start with one massive piece of carefully selected and well seasoned mahogany
Another aspect of this new guitar will be the headstock: first, it will have 3 tuners per side and will have a 17° angle to the fingerboard, this to ensure great string pressure on the nut resulting in greater vibration. Nothing new there as this had already been done on vintage guitars and proved to work the best for the tones we wanted to achieve.
The headstock will receive a thin ebony cap in which the Magneto logo and the 3 Velvet stripes will be inlayed using Mother of Pearl material.
Right on the other end, the bare neck will have a long tenon that will be shaped to fit very tightly into the body where it will be solidly glued. It is called a set-in neck and we will use a very traditional Mortise and Tenon joint, goal is to connect body and neck in such a fashion so it becomes one single and tight unit.
Mass? Yes, mass is important but you do not want a neck to be too fat, just fair sized so it feels good to play. And the mass of the neck has to be in a certain balance to the body mass in order to reach the tones we are after.
Next step is glueing the fingerboard onto the neck.
Stay tuned!