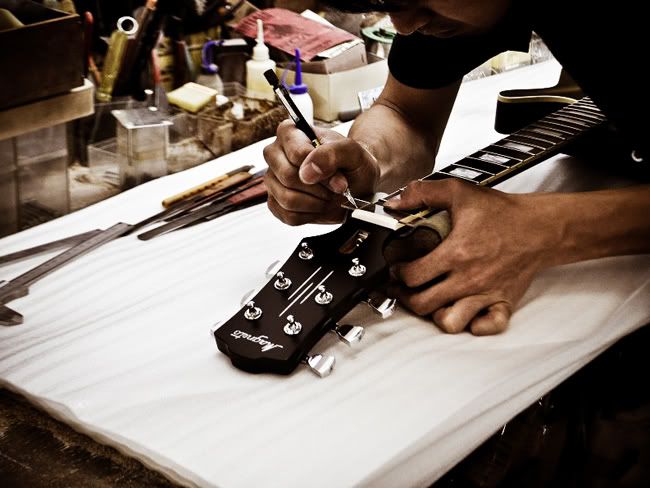 Chapter 9: The Final Set-Up and QC 
The final set-up work is the final touch making a big difference when done properly, not that we mean that the rest of the work has less importance but the final set-up basically comes at the moment where the guitar is supposed to be finished and go out of the workshop. Here again, it is very important not to go too fast and to do all steps properly. At Magneto Guitars we do another Set-Up and final QC just before the guitar leaves our workshop to the new owner.
During final set-up you fine tune the neck relief, the intonation, the nut , the string action, pickup balance etc… you also check all aesthetics in detail. Why checking so many times? Well, your eye could always "miss" something and this is the last chance, we like to think that the guitar just has to be perfect when reaching the musician.
Intonation is a subject we have put time and energy into. It is our belief that the original guitar tone is generated by its traditional equal temperament. The whole guitar language was written on that basis. So it is also our belief that the guitar has to keep this fret system. However, we weight the importance of the guitar's intonation and tuning in the studio when playing or recording with other instruments.
We put special attention on the position of the frets, specially the first 5 frets as well as the intonation on the 12th fret. Our guitars are conceived and set-up so they pass the test of tuning and intonation in the studio. This of course always depending on what you see as being "the reference" if there is such a thing, however, even an equal tempered instrument can play well with other temperaments like the "well tempered" piano which often comes as a reference.
During final set-up we just make sure that the intonation is all fine, we fine tune the intonation of the high E and B by ear, which gives a more pleasing intonation on the higher frets.
Well, the new Velvet guitar is about to be finished and we'll show the first pictures here next week. The new instrument will now go through beta-testing in order to see if the theories really turned into practice both in terms of tone and ergonomy.
Stay tuned!